- The New Generation of Event Management
- APP
- BRANDING
- CONTENT
- PRODUCT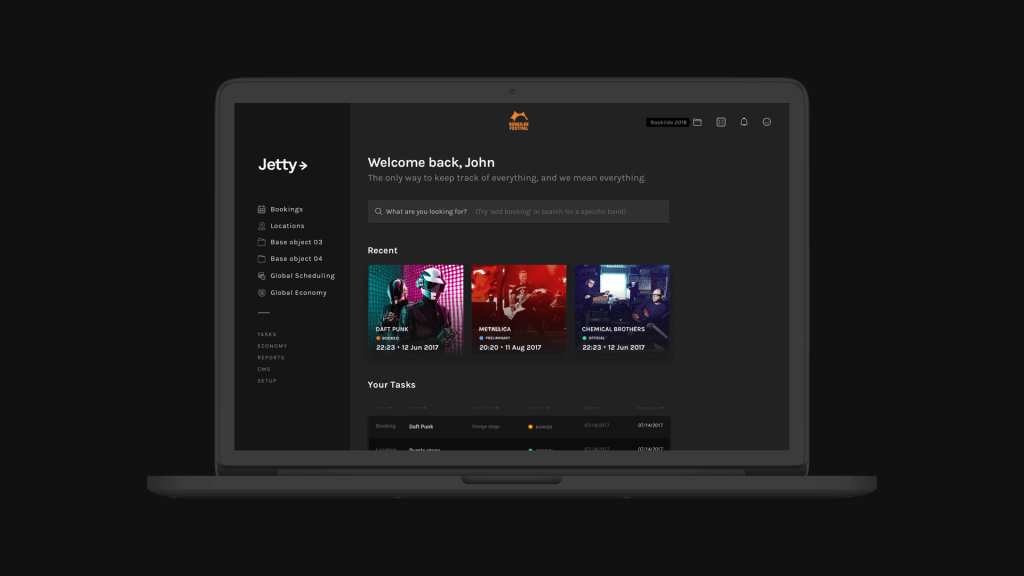 Taking it to the next level
Jetty had created an event management tool and wanted help to take it to the next level. Our mission was to create a service that simplifies the users work with planning a festival or other big events, with everything from the negotiation of the fee for Iron maiden to who will clean the toilets after the show.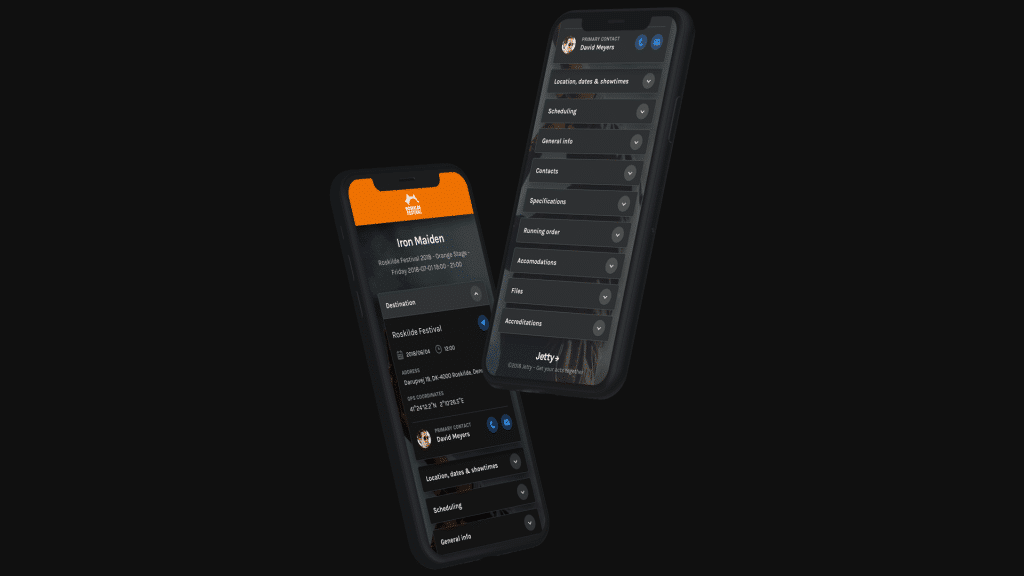 The artist get a link where they get all their relevant information in one place. No more calling, searching or printing papers. Online, always updated.
Objective
Jetty was in need of a re-design. Not only visually but also as a product. The objective was to create a new platform that would be scalable, beautiful and as easy to use as you know your own house.
Approach
We decided to challenge the design path that was taken earlier and we did not stop there. We broke apart the whole idea of internal apps and re-thought the user flows and navigation.
Results
The new product, J2, is a complete re-vamp of the Jetty customers user experience. An experience that has been vital in Jetty's journey of increasing sales with 700% and taking the company public.
OUR PROCESS
We take on this type of project in 5 phases – Understanding, User Journey, Concept, Wireframes, and Design. All of them in a close cooperation with the client and in an iterative way. In the first phases we do target group analysis, user journey and effect-maps. Combined with an analysis of the business demands we get at good customer insight. Based on these insights we could challenge the assumed needs and create a service, based on how people actually need to use it in their daily work life, instead of on how it was technically built. We did this without changing the technical demands. By working through our five step process and with our experience we could add concept design early and make sure both the users needs and Jetty's KPI:s were adressed. A lot of the work was based on interviews but also on feedback and data from users of the product before the re-design.